Quality Management
ISO Audit
Certification as an Approved Quality Management Auditor (AQMA – TÜV-Süd) in 2001
Certification as Euro-Assessor – EFQM (TQM)
Certification experience for over 15 years
Are you interested in an audit?
Send us an inquiry and we will get in touch with you.
The DIN EN ISO 9001 is a comprehensive standard that is based on a process-oriented universal approach. It describes the organizational processes both for industrial companies as well as for service companies.
As part of the overhaul of the ISO 9000 family of standards in 2000, the precepts were revised and restated in the following 8 quality management principles:
Customer focus
Leadership
Involvement of people
Process approach
System approach to management
Continual improvement
Factual approach to decision-making
Mutually beneficial supplier relationships
The elements of quality management according to DIN EN ISO 9001
Scope
Normative reference
Terms and definitions
Quality management, management and organization
Management responsibility, lecturer management
Resource management, training environment, information and communication
Product realization, document control
Measurement, analysis and improvement; distribution and market focus; course planning and design, support for participants; course organization and execution
At the moment the revision of the DIN EN ISO 9001:2015 is available. Find out which changes will affect you. We will inform you based on the currently available draft.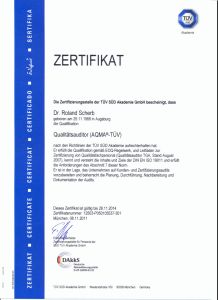 Approved Quality Management Auditor (AQMA –TÜV-Süd) 2001
Und was dürfen wir für Sie tun?