The Coronavirus – Making a virtue out of necessity
18. March 2020
In the meantime, the Coronavirus / COVID-19 has been keeping Germany in suspense, too. A state of emergency was declared during the press conference of the Bavarian state government on March 16, 2020 at 10 AM.
We continue to work for you!

Impact on companies
Employees who can work from home now have an advantage over those who need to be released from work or sent into reduced working hours. Companies that hadn't been that much in "favor" of letting their employees work from home have increasingly been applying this solution during the present situation as well. The advantages for both sides are perfectly obvious.
Certain framework conditions are not to be neglected when it comes down to working from home and accessing the company network. For instance, the legally valid and applicable data privacy regulations must be adhered to, especially if the job involves personal data. In case you have any questions about this issue,
PeRoBa® will be offering a brief check analyzing whether there is immediate need for action. Please get in touch with us at this link: Contact with "Data privacy check" as an indicator on condition that you are interested in that. 

Possible alternatives
PeRoBa® will be supporting companies especially via digital solutions against the backdrop of the restrictions that are going together with this pandemic occurrence. We can do that through our iVision® Smart Remote Audit Solution or through individual webinars on management systems topics and corresponding further training.
See our post on the Efficient and effective implementation of increases in skills and competencies as well as further training through PeRoBa® webinars for an explanation on the issue of webinars.
An option for coping well with the present situation is about obtaining qualifications and / or submitting evidence when that could not be done in a timely manner during day-to-day operations before. If further training regarding management systems is necessary in your company or if your coworkers would like to attend further training on core methods, please contact us over short-term implementation of learning units and seminars we are offering online.
If needed, we will be glad to test performance at the end of the webinar so that certificates can be obtained.

What can we do for you?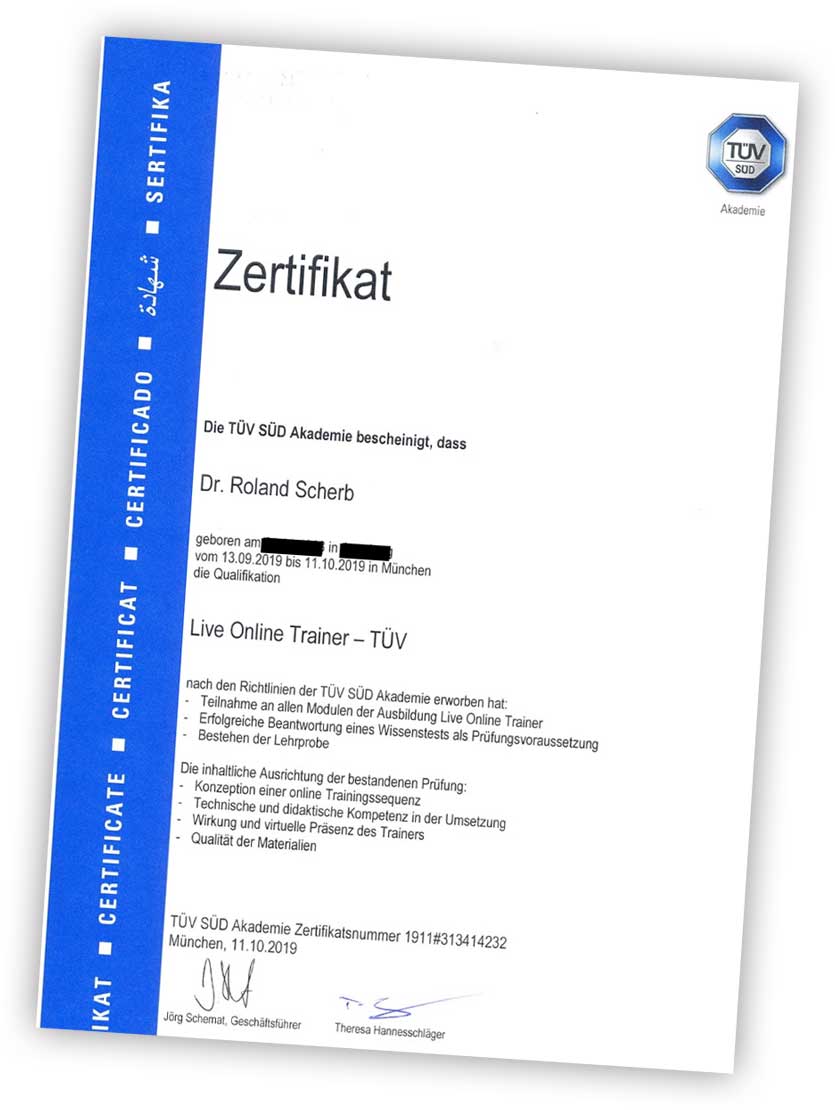 We would be happy to discuss with you possible digitization concepts which can be implemented quite soon. PeRoBa® also relies on continuous trainings. In this field, we successfully received the TÜV-Süd certification as "Live Online Trainer – TÜV" in October 2019.
The team of PeRoBa® Unternehmensberatung GmbH (Management Consultancy LLC) will be happy to stand by your side if you have any further questions in this context or if you would like any recommendations for action.
Don't hesitate to get in touch over any questions or need for support: Contact
Your PeRoBa® Unternehmensberatung GmbH (Management Consultancy LLC) Team