Are there any disadvantages to ISO certification and is it worthwhile for me?
Pros and cons. What are the arguments against certification?
ISO certification brings clear advantages for companies in the battle for new orders and market share. In some sectors – such as the automotive industry or the care sector – it is even a prerequisite today in order to be able to operate economically at all. Reduced process costs, lower error rates, a better image and reduced risks are the most important advantages that can be gained with ISO certification. However, as with almost everything in life, there are of course also some disadvantages that should not be overlooked. Particularly in sectors where ISO certification is not mandatory but is intended to serve the company's own objectives or external image, it is definitely worth weighing up the pros and cons, i.e. the possible disadvantages against the advantages. However, this topic generally requires comprehensive and expert advice, which we would like to anticipate a little at this point. If you are thinking about seeking ISO certification or renewing an existing one, we will be happy to assist you with our many years of expertise.
Disadvantage - High certification costs
The certification costs themselves are of course the most obvious cost factor – and not even this can be calculated as a lump sum. Different certification bodies have different methods for calculating the costs of certification. However, the usual influencing factors are
size of the company or number of employees
the specific industry
number of sites / location of the sites
The only way to find out the specific costs for certification is to obtain a concrete offer from the certification body or the experience of a consultant working in the sector. Recertification of certificates that have already been issued generates much lower costs.
Disadvantage - High upfront costs and consulting costs
In the run-up to ISO certification, there is a lot to do to check and, if necessary, adapt your own processes, products and procedures. In practice, this can only be accomplished with the appropriate (external) expertise. As the services offered here are also very sector-specific, the necessary specialists are often not available in such large numbers that customers can expect a great deal of price concessions. Quality also has its price here.
Depending on the complexity of the existing processes and procedures, certification may also necessitate the purchase of new software or hardware. Similarly, new positions may have to be created in larger organisational areas to deal with the maintenance of the quality management system (QMS) to be implemented. In the case of new certifications of existing certificates, however, the expected expenses for consulting are much more manageable and calculable.
Disadvantage - additional work to maintain processes and documentation
Anyone who commits to quality management must also be aware that they will have to live it in the future. This is not possible without additional effort, especially in terms of documentation. Likewise, in many industries, changes to quality management must be taken into account promptly so that you are not suddenly faced with problems during subsequent certifications. Last but not least, your own quality management system should of course be constantly improved and further developed on your own initiative, because only then can it really work economically and not develop into a costly disadvantage. Certification is not the end of the process, it is just the beginning.
Disadvantage - Demotivating aspects
Obtaining ISO certification is a reason to be happy for your own company, but it can also quickly lead to a feeling of satisfaction and complacency. After all, you have a piece of paper that certifies that you are working properly. In practice, only the company management can actively counteract this effect by constantly promoting an understanding of quality management in the company through ongoing training and education. The period immediately following initial certification can be particularly difficult for many of the employees concerned. In most cases, their work processes have been the target of changes and they usually also bear the additional costs for monitoring and documentation. Only employees who have been made aware of the benefits of the implemented QMS can actively contribute to its acceptance.
Why is certification important?
With certification, you demonstrate your commitment to quality, good products or services both internally and externally. Internally, certification acts both as confirmation of good work and as motivation to maintain or even improve it. Externally, certification (if not legally required anyway) gives you a clear competitive advantage over competitors without certification.
The undeniable disadvantages of certification must be considered individually. In practice, however, it is almost always the case that the many advantages outweigh the disadvantages of certification, provided that good planning and advice are in place.
Solution: Avoid quality bureaucracy - through expert advice
How the disadvantages of achieving ISO certification are dealt with in the subsequent day-to-day QM work is primarily a matter of preparation, i.e. prior consultation. The pros and cons need to be considered, evaluated and ultimately weighed up at an early stage. The "production" of documents must not be understood as "just because they are required". The underlying reasons and benefits must be sold from the outset as part of a corporate culture so that they can be accepted at an early stage. Prioritisation must also take place in order to prevent the newly added effort from impairing productivity and flexibility. Preventing a quality bureaucracy from becoming an end in itself is one of the major tasks that an external consultant for ISO certification has to face.
At PeRoBa Munich, we have been advising clients across all industries (specialising in automotive, mechanical engineering, medicine and care) on the path to ISO certification for many years. Thanks to our philosophy of consistently practised quality management, our consulting services do not usually end with the certificate. Continuous consulting and ongoing development are the reasons why we are successful together with our customers in the long term. Constantly emphasising the advantages of ISO certification so that the disadvantages are barely noticeable – that is our goal and our motivation.
In particular, we also rely on state-of-the-art technologies to implement and live quality even better. Our iVision remote audit solutions take your quality management to the next level. Real digitalisation, real quality 6.0.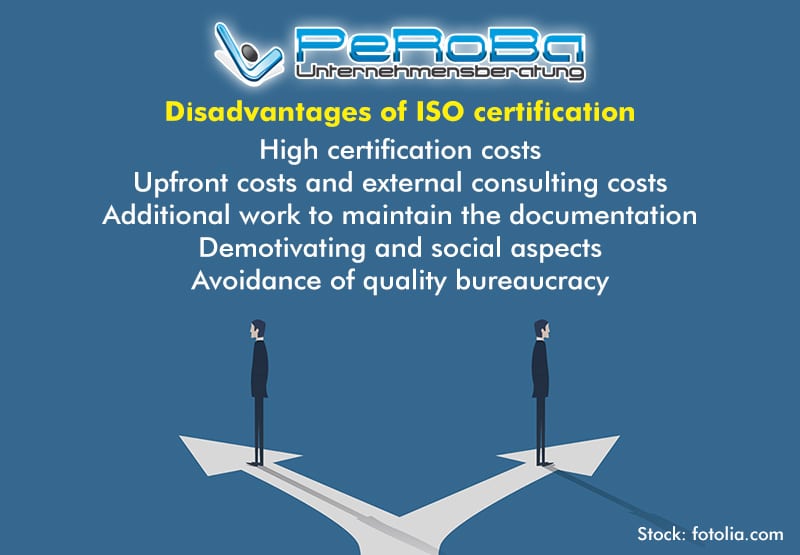 Frequently asked questions about ISO certification
Who actually needs ISO 9001 certification?
The reasons for ISO 9001 certification are usually external. Certain suppliers, customers or authorities expect a corresponding certification as proof of an implemented quality management system. If this is missing, the company is often not competitive. In the past, it was mainly common in the technical and manufacturing industries, but today more and more service providers and service professions are also seeking certification. Internal reasons for ISO certification are usually based on economic reasons, for example the desire for more market opportunities, more profit and less expenditure.
What disadvantages can ISO certification entail?
In addition to the actual costs (start-up costs, certification costs), a number of other associated problems must also be taken into account. Not to be underestimated are the future additional costs for documentation and process maintenance, which of course also cause costs. Here it is important to implement suitable tools and aids as a preventative measure in order to limit the necessary expenditure. In practice, there are also repeated demotivating aspects for the employees concerned. The danger of quality bureaucracy should be countered at an early stage.
How can additional costs be reduced after certification?
The aim of introducing certifiable quality management is often to increase profits and reduce costs. The costs incurred by certification can now be easily limited with the right tools. Above all, suitable software equipment helps to manage the new processes easily and to control the often feared "flood of documentation". An experienced QM consultant can optimise this individually.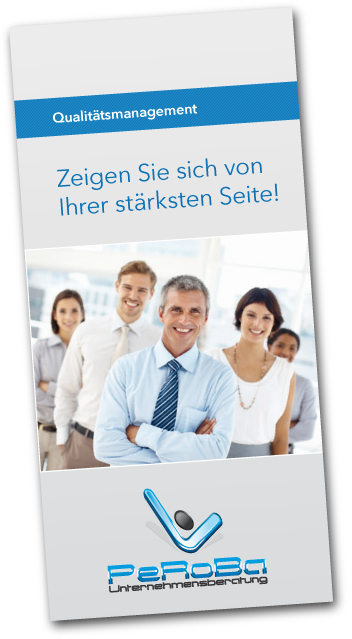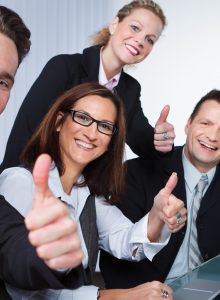 Avoid the disadvantages of ISO certification.
We will answer your questions.
Arrange a non-binding initial consultation via online appointment,
or send us a message using the contact form.
You are also welcome to contact us by telephone.